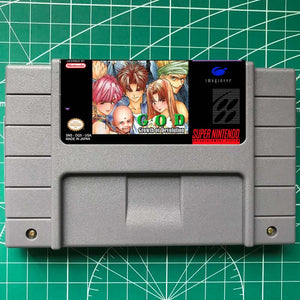 GOD Heed the Call to Awaken English Translated
Game Description :
The year is 1999. A boy named Gen lives together with his mother in a small Japanese city. One day he goes to the nearby mountains and discovers an underground cave. In this cave, he encounters a strange bat-like creature guarding what appears to be a huge diamond. When Gen approaches the diamond, the floor crumbles, and all he can see is a group of aliens descending on the Earth… Gen is awakened by a man in a military uniform. He quickly gets up, and notices a calendar. The year is 2009! Ten years have passed, of which there is no recollection in Gen's memory. The world has changed a lot during those years. Aliens have invaded the Earth, many cities are destroyed, and he finds himself amidst the members of an underground resistance movement. Now he has to travel all over the world, help the humans in their struggle, and discover the secret of the invasion.
The game is a console-style RPG with randomly encountered enemies whom you fight in turn-based combat viewed from "over-the-shoulder" perspective, similar to Phantasy Star IV. Gen and other party members develop special powers called "chakra", which can be leveled up just like the characters themselves.
---
We Also Recommend
---