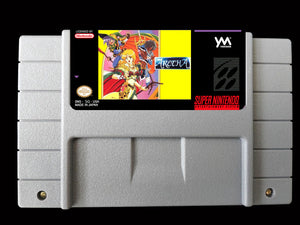 ARETHA (English Patched) SNES VIDEO GAME US VERSION
Aretha
Aretha

 

is a role-playing video game developed by Japan Art Media (JAM) and published by Yanoman Corporation to an exclusively Japanese market. It was originally released for the Game Boy in 1990 and later ported to the Super Famicom (SNES) as

 

Aretha

 

the Super Famicom in 1993.


Aretha
tells the story of Ariel; the granddaughter of a wise old grandmother who has been turned a ten-year-old and was given a simple task: to go through the forest to Nineveh, the nearby town, and to meet a certain person while visiting the town. Eventually, Ariel uses this quest to hone her magic skills to fight the ultimate battle against evil.
DESCRIPTION

New .(HomeBrew)
Tested , cleaned and works very well
The game have USA version .
Save Function yes battery
NTSC system

SHIPPING

We send all item within 2-3 business days once the order is confirmed .We can't send goods on weekend ..

Approx. delivery time
Country Shipping Date
Canada, United States, United Kingdom 3 weeks to 4 weeks max
Australia, France, Germany, Spain and others 4 week to 6 week max

---
We Also Recommend
---